Striving to create a workplace that people want to be a part of...
Alsco is proud to be the industry leader in employment conditions. We achieve this by treating our people with respect and valuing their diversity. There are many great reasons to consider us as your next employer - we offer higher wages, guaranteed hours of work, overtime rates, better conditions, regular pay reviews, family-friendly hours, employee assistance programmes, fair employment practices and safe work conditions.
We strive to be a workplace that people want to be a part of and where their safety and wellbeing is a priority.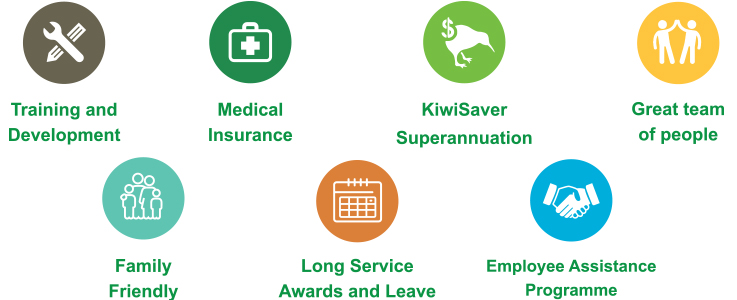 About Us
In 1889, Alsco was founded on the ever-growing, ever-changing American frontier in Lincoln, Nebraska. From the merchants, restaurants and factory owners of the 20th century to the local businesses of the 21st century, Alsco is currently providing a peerless managed rental service to 27,000 satisfied customers in New Zealand. That is our legacy.

In NZ, we lead the textile rental market...
We provide uniform, garment and dust control rental as well as continuous cloth towel and other washroom services to industry and commerce. We also provide linen rental services to hotels, restaurants and the healthcare industry. Fresh & Clean washroom services distribute a large range of products that meet the cleaning, hygiene, and safety needs of the workplace for most businesses. We have a sound business plan in place with a clearly defined strategy and goals for future growth that will ensure our continued success both in New Zealand and overseas. Naturally, with growth, opportunities arise for employees who display dedication and initiative. At Alsco we pride ourselves on staff development and internal promotion.
To find out more information about our group of companies please visit: www.alsco.co.nz